Morgane is a PhD student in the Animal and Dairy Science program, co-advised by Drs. Steve Stice and Franklin West.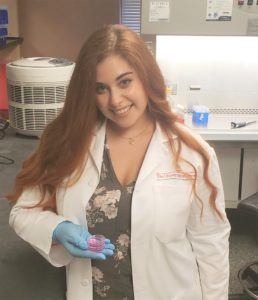 Morgane's passion for research was piqued during her undergraduate studies at UMass Amherst, where she worked in the Cui Lab, studying preimplantation embryo development and animal modeling of genetic disorders. In her time there, she was published as a coauthor on three manuscripts, awarded a fellowship for undergraduate research, and named a Rising Researcher by the university.
Having learned about animal modeling of diseases in various animal species, Morgane was encouraged to pursue graduate research in the Regenerative Biosciences Center here at UGA. She is so thrilled to be working within our collaborative, inter-disciplinary team to explore the impact of neural stem cell-derived extracellular vesicles in neurotrauma. Morgane is also the President of the RBC Graduate Student Association, a club that unites RBC graduate students through professional development, social events, and community outreach.
Outside of the lab, Morgane enjoys spending time with her husband, Jake, their two cats, dog, and flock of chickens.