As part of our research team, Kelly studied non-integrating cellular reprogramming, neural stem cell therapies for stroke in a porcine model, and non-invasive in vivo imaging in our pig model. CV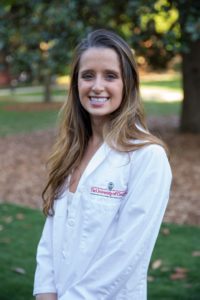 Kelly is a graduate student in the West Lab pursuing her PhD in Neuroscience. She is from Peachtree City, Georgia. Kelly graduated from the University of Georgia and received her Bachelors of Science in Biological Sciences and Animal Science with an emphasis in Animal Biology in 2017. She has a passion for research and animal welfare.
Kelly begins her research background in stem cell biology focusing on cellular regenerative medicine. Kelly's research interests include non-integrating cellular reprogramming of fibroblasts into induced pluripotent stem cells (iPSCs), the regenerative and protective potential of neural stem cell derived exosomes as a therapy for stroke, as well as, embryonic stem cell generation from iPSCs from endangered animal fibroblasts in an effort to keep populations from going extinct. Currently, she is generating iPSCs from patient fibroblasts which carry DNA mutations to ultimately help combat mitochondrial and neurodegenerative disorders, diabetes, autism and infertility. Kelly continues to play an active role in the Regenerative Bioscience Center and aids in the developments of neural injury therapies and neurodegenerative therapies at the West Lab.
In her undergraduate years, Kelly was involved in veterinary and animal sciences during her time here at UGA and devoted her studies and free time to these goals of improving animal health and welfare. Kelly played an integral role as an undergraduate researcher, veterinary assistant, CURO Honors Scholar, Regenerative Bioscience Fellow, a member of the Large Animal Emergency Critical Care Team, a member of her sorority (Delta Delta Delta) and a mentor for incoming freshman into the College of Agricultural and Environmental Sciences.