As part of the West Lab, Vivian investigated the effect of induced pluripotent stem cell derived neural stem cells on post-stroke recovery using the pig model.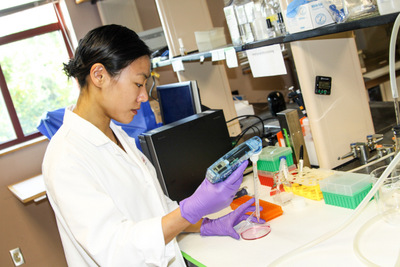 Vivian joined us from the great northern country of Canada where she completed a BSc (honours) in Animal Biology at the University of Alberta and earned a DVM (Doctor of Veterinary Medicine) from the University of Saskatchewan.  She completed a rotating small animal internship at Long Island Veterinary Specialists in Plainsview, NY and a specialty internship in neurology at Gulf Coast Veterinary Neurology and Neurosurgery in Houston, TX. Vivian has also practiced as a primary care and emergency veterinarian in Maryland and Canada.

When she is not in the lab or clinic, Vivian enjoys international travel, running, hiking, reading, SCUBA diving, and climbing. Vivian also enjoys spending time with her fiancé and their fuzzy, four-legged house beasts (a curious cat named Malcolm and a crazy puppy named Leonard).